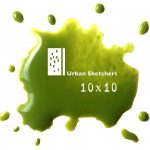 Hello Everyone!
I have to tell you about this amazing group called the Urban Sketchers!  This is the kind of sketching I have always wanted to do!  It just blows me away when I watch these wonderful artists sketch.  I have always thought I would love to learn this.
It started out when I was watching my favorite mixed media art journaling artist Vicki P.  on Youtube (that is a whole other blog post)! Anyhoo! I found this young man named Teoh Yi Chie and here he was sketching all of these beautiful buildings and outdoor locals.
He has a wonderful calming voice and explains how to get started in urban sketching and watercolor painting.  Everything you can think of from beginning tutorials, paint, pens, sketching bags, angles, you name it, he does all of these wonderful examples, tutorials, and product reviews.
Check him out @ https://www.youtube.com/user/teohyc
In one of his videos, he is with a whole group of sketchers and they are doing an Urban Sketchwalk! It looks like so much fun! So I looked up Urban Sketchers and found this great group, that is all over the world!
Please click the Urban Sketchers button to find out more if you would love to learn to sketch and join a group of like-minded artists!
I'm going to look for a branch in the Sacramento area.  So if you are interested, please let me know!
Take care,
*´¨)
¸.•´¸.•*´¨) ¸.•*¨)
(¸.•´ (¸.•´ * ♥   Lisa