Hello Everyone!
Yay it is Winter!!! I love all of the seasons.  Each one brings its blessings.  I especially love the winter because it means it will rain and I love the rain! It makes everything smell so good.  And I get to bring out my boots, scarves & hats. :O) It also means a lot of hot chocolate and tea drinking. Love Love Love tea!
Plus I just love the winter trees…
That is how they got started.  One evening when I was driving home… I was on Eight Mile Rd. and the sun was going down and it was winter time and there were no leaves on the trees and the California Oaks are just gorgeous when the sun is setting.  Their silhouette turns black and they are all gnarly.  It is a sight to see.
I will be working on some new winter tree drawings this weekend.
Here are some wonderful winter tree pictures I took when the kids and I went to the park. They are not California Oaks but they are light, spindly and beautiful.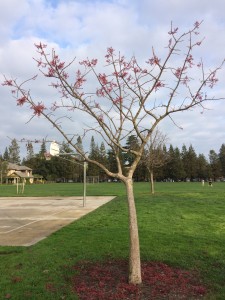 I think someday I would love to print a picture book of all of may favorite trees in the world.
What is winter like where you live?  What are your favorite things about winter?
Take care,
*´¨)
¸.•´¸.•*´¨) ¸.•*¨)
(¸.•´ (¸.•´ * ♥ Lisa