Hello Everyone!
Well this is the first part of our Tin Can Camper Redo.  I found this lovely gem on Craigslist.  I had been looking for about 2 years.  Most were complete redo's and they still wanted $1800.00 or more.  So I kept looking until I found one that caught my fancy and was in my budget. :o)
Waa Laa We found "Flo"
She was donated to a minister & his church. He said he wanted to pass on the blessing.  Luckily he lived only about a half hour from my home town. Super cool!
So my mom & my friend Doug went with me to look at her.  She was sooo cute! And ready for the road.  She just needed a little work, or so I thought…lol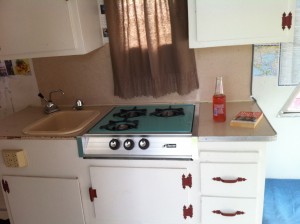 But I was so excited that I had found her that I didn't care how much work she needed.  So we loaded her up and took her home!
The first year we did a bit of fixing up & took her everywhere.
Petaluma KOA was our first stop.  So much fun! Super nice, clean campground.  I would recommend this one to everyone! Really nice staff, Lots of things for the kids to do, so much so that you don't want to leave the camp ground to go into town…lol  Very peaceful site, lots of trees.
We traveled on for the rest of the year going to all kinds of wonderful places.  Once winter started arriving we decided it was best to stay home and go again next year.
Once home I noticed that you could see daylight coming in the right corner of the floor in the front.  YIKES! Not good!
I had the camper looked at and it needed a new floor and some repairs to the walls and frame, etc . The estimate was for $3000 – $4000.  But there was no way I could afford that and I really wanted to do the work myself. To experience doing the restoration not just drop it off and have some one hand it back to me all shiny and ready to go.
So I called the boys dad (he was knowledgeable in construction) and asked if he would be willing to teach us the basics…lol
Boy was I in for a surprise!
Stay tuned for the rest!
Take care,
*´¨)
¸.•´¸.•*´¨) ¸.•*¨)
(¸.•´ (¸.•´ * ♥ Lisa