Hello Everyone-
Fall is finally here! YAY!
I love fall!
The crisp weather, the rain, the leaves changing colors on the trees.  Now I can pull out my scarves and boots and beanies!  And fall food is the best! Homemade chili & soups… comfort food! Yum!
What are your favorite things about fall?
The kids and I went to the park to check out some of the trees and fall leaves.  Here are some great pictures we took.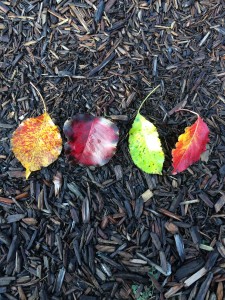 While the kids and I were walking around the park and playing on the swings we came across this great find…  I thought it was perfect for the season and the rest of the year too :o)
Take care,
*´¨)
¸.•´¸.•*´¨) ¸.•*¨)
(¸.•´ (¸.•´ * ♥ Lisa
PS…Makes me want to grab my box of chalk and go to every park in town.