Hello Everyone! How is your summer going?
We are having a blast! Tending gardens, walking Charlie around the neighborhood, water fights, riding bikes & drinking icee's from am/pm…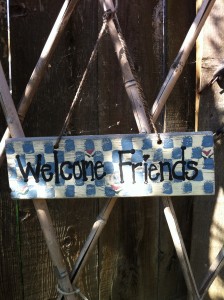 Our garden is finally growing! This is the first year that we planted everything from seed except for the strawberries but we did have some plants from last year and I added a few more…. we had lots of strawberries but the blue jays or should I say scrub jays keep stealing them! What do you suggest to keep the birds away?  I want them around because I love to bird watch and listen to them sing but I don't want them to eat up my strawberries.  What about some netting or those shiny strips of foil tied to the tree?
What do you think works the best?
I already have several zucchini's growing.  My oldest son Liam loves to sauté them in a pan with Imperial margarine, garlic salt, rosemary and pepper… I like to add tomatoes, red onions, tortalini's, jack cheese and an over medium egg to it too.  makes a super yummy breakfast!!! My sister-in-law said she uses Miracle Grow every other week and her zucchini plants are 3x the size of mine… I think I better get some miracle grow. :o)
I love the smell of these flowers, but my sister-in-law has said to watch out these pretty flowers will take over your garden. They have already popped up in my zucchini bed…but I think I'll move them over to the pot I have the mandarin orange tree in.  I think they would look really nice over there.
Our tomato plants are starting to grow now… YAY!!! I love tomatoes! Especially tomato sandwiches in the summer time.
What is your favorite summer sandwich?
Here's our pomegranate bush…lol… it doesn't look like a tree at all, but this year we are getting flowers on it.
Everyone needs a lovely table in their garden.
These are some flowers that popped up in the planter with my blueberries… I think they are from the old house.  They used to be by Turk's pond (our pond slider turtle) and we brought them to the new house with us and I planted them under the crepe myrtle tree.  This one must have gotten missed.  What a nice surprise it is.
I read an article about bees the other day and how backyard gardeners should plant lots of flowers with their veggies to help out the bee populations.  So I'm very happy that these extra flowers  popped up… I also notice that the ice plant I have growing has little red flowers and then when those go away little pink ones pop up… it's really cool!   I'll make sure to get a picture of it tomorrow and post it.  The bees love those flowers!!! I have lots of bees, birds and ants in my backyard.
To get rid of the ants I was told to sprinkle old coffee grounds in your veggie beds… it works for a bit but they do come back.  But I drink coffee a few days a week so I just save my grounds and keep sprinkling them in my garden to keep the ants away. ;o) Well that is what we have been doing…. hope your summer is a great one!
Please share what you have been doing.
*´¨)
¸.•´¸.•*´¨) ¸.•*¨)
(¸.•´ (¸.•´ * ♥   Lisa